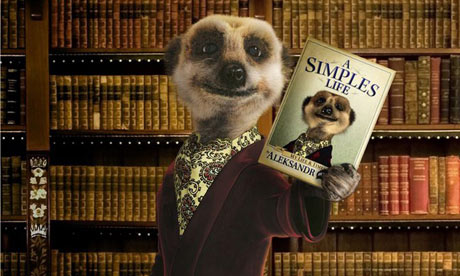 There's lots of good stuff for students of language change in today's papers and online, with the latest additions to the Collins English Dictionary getting some coverage. The Scotsman gets some expert opinion from Edinburgh University's Geoff Pullum on the new entries to the dictionary and
you can read more here
. Elsewhere, the BBC covers it
here
and The Guardian
here
.
For many of these articles, the highlight is the inclusion of
a humorous Russian meerkat
and his use of "simples". Linked to new words and their formation, the BBC News magazine also has
an interesting look
at the way
i-
has entered the language as a kind of trendy prefix. According to the article, now we have the iPod, the i-Player and the i-Phone (well I don't have an i-Phone but I wish I did) but soon we will have i-everything. In the same way that e took off as a briefly funky prefix to add to anything you wanted to pretend was modern (e-commerce, e-marketing, email...) i- has become the new must-have prefix. It's a good read and features the wisdom of Tony Thorne from King's College, London, a man who knows his onions when it comes to language change and new words.